In 2020 l published my puppy guide. This has been a labor of love over the past 2 years and is currently the most comprehensive  Australian Golden Retriever puppy book available. It is set out in an easy-to-read format with over 100 charts and photos. Parents have told me their children have enjoyed sitting down with them and reading it together.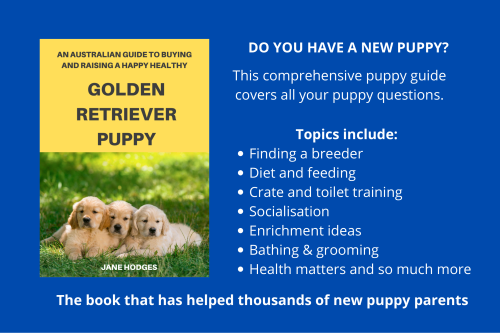 Regardless of where your puppy is from this book will be a valuable guide. It is also an excellent resource for breeders to supply with their puppies, and many breeders have embraced this guide and are including it in their puppy packs.
Topics included:
Meet the Golden Retriever
How to find a reputable breeder
Things to be aware of when selecting a breeder
Before you get your puppy
Puppy selection and bringing your puppy home
Feeding your puppy
House and crate training
Puppy exercise and behaviour
Health Matters
Desexing your puppy
Coping with an in-season girl
Puppy Socialisation
Behaviour Problems, such as mouthing, barking, digging
Enrichment and fun ideas for your puppy
Puppies and Children
5 pages on grooming your Golden
Common health matters ( hot spots, anal glands, ear infections, allergies)
Medical emergencies
Therapy and assistance dog
Hereditary conditions
and so much more.
68 pages of full colour with over 100 photos and diagrams. Also includes a poisons list, a socialisation chart, and a puppy important dates record chart for your puppy.
To purchase this book: Please follow the link to pay and order online.
The cost per book is $19 plus postage and handling. (The secure payment is via square.)
Australian Golden Retriever Puppy Book
Orders of 10 or more will get a 10% discount. Enter the coupon code BULK at checkout to receive the discount.
For bulk orders of over 50 please contact Jane for a price. Buying a box of 50 saves a considerable amount in freight. 
Below a short video about the book.