Presents
Oaklodge Juliana
 Sire: Ch Oaklodge Edward O 'Carlie   Dam: Oaklodge Thread of Gold
 25.1.98 – 10.2002
Hip score 4/7(11) Elbows 00, Clear eye cert, Clear Heart Cert.

"Ana"
We welcomed Ana to our family in March 98 – Oaklodge Juliana (CH Oaklodge Edwrd O Carlile X Oaklodge Thread of Gold) " Ana combines quality, English, Australian and New Zealand bloodlines. We are grateful to Delma and Bob Marshall for letting us have her.  
Ana has had several age group awards at all breeds Ch shows, but she is happier at home rather than being a show girl. Ana has proved to be a very valuable brood bitch and is behind all recent Camuka's progeny . She produces sound puppies with her lovely disposition. She is the mother of  our youngsters. , CH C. Monarch ofthe Glen (Archie), C. Absolutly Fabulus (Sophie), and C. Sovereign Edition (DeeDee) .
Ana was part of the Victorian Responsible Pet Education Programme, and loved her visits to the Ballarat Primary Schools with me.
VALE
 Ana was tragically killed by a car in late October 2002. She had only been in her new home for 4 months. We can only hope those 4 months  were very happy.
 Ana's legacy lives on in her progeny Archie, Mia, Dee Dee & Sophie.
RIP our beautiful gentle Annie, we will meet again at Rainbow Bridge.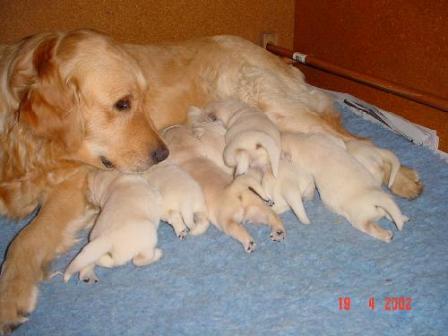 Ana with her last litter born 10/4/02
OAKLODGE JULIANA
SIRE

CH Oaklodge Edwrd O' Carlile

 

Oaklodge Oliver
Oaklodge Impact
Larkin Agarista
Harrigold Christabel
CH Oaklodge GoldLink
Harrigold Amberglow
DAM

Oaklodge Thread of Gold

 

Tola Bar(imp UK)
Eng Duel CH Rayleas Reema(UK)
Barcamino Emmanuvella (UK)
Larkin Agarista
Charterhall Gallileo(imp NZ)
Harrigold Belinda