presents
Chaleur High N Mighty
Sire: Aust & NZ
CH Kaparla Loch Invar   Dam: Chaleur Witchery
14/12/2003 – 2/10/2013
Hips 2,4(6) Elbows 0,0, Clear Eye Cert. Clear Heart Cert.
"Oskar"
3 CC's & 8 Res CC's
VALE – on 2 October 2013 – We said good bye to
our beautiful boy Oskar " Chaleur High N Mighty. Taken suddenly and far too
soon.
Will miss you for ever.
Oskar 3 years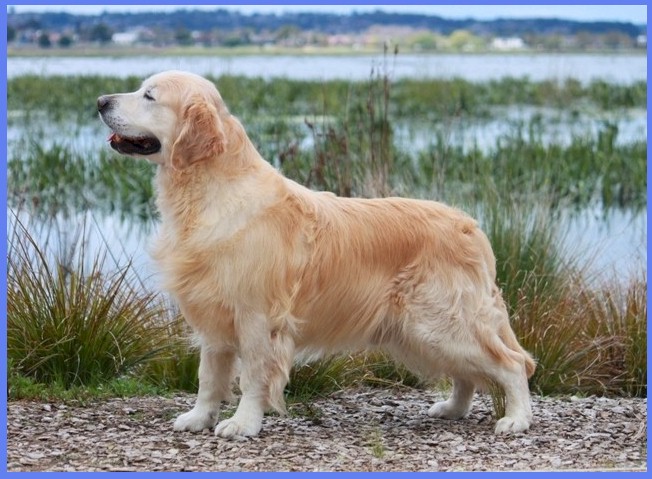 Oskar 6 years
Oskar is from WA's  renowned  Chaleur Kennels. Thank you Ruth Thompson for
entrusting us with this special boy.
Oskar has matured into a lovely boy, with
his Dads laid back attitude to life,  and a fantastic lively temperament, he
has
become the clown at Camuka, always amusing us with his antics.
 He has been sparingly shown as does not
really enjoy it, yet has done
consistently well.  His real value is as a sire, and his progeny are very
promising, with excellent health clearances & Oskars lovely out going
temperament.
*At the 2007 Victorian Gundog show (52  Goldens )Mr C
Mackay(UK) -Oskars kids
won minor puppy bitch class, Junior dog & best Junior &
Best Australian Bred.
Oskar far prefers obedience & tracking work to
showing and has done well in both disciplines..
Oskar's progeny Have been doing very well in
all disciplines,  he is at stud
to *approved bitches, his pedigree combines some of the top WA dogs with some
very influential English lines. Bitches will only be accepted with progesterone
results.
Oskar congratulates his son "Byron"
owned & bred by Carol Hobelen on his title now
Aust Ch Acician Aiming High
Click here to see
 Oskars
Progeny & progeny results.
Show Results
3rd November 2007 – 1st Aust Bred dog – Vic Gundog show – Judge Mr C Mackay(UK)
13 October 2007 – DCC Ballarat Dog Club – Mr J Black (Vic)
29 April 2006 Central Victoria Canine Club – Mrs. C Vaughan (Tas) Res DCC
11th March   2006- Mt Elephant & District KC  – Mrs. S
Johnson (QLD)  -Chaleur High N Mighty –
RDCC
13th February  2006- Ballarat Dog Club – Mr E Singer -Chaleur High N Mighty –
RDCC
28 November 2005- Sovereign City  CH show –
DCC & BOB  -Judge – Mrs G Alexander (Vic)
7th May 2005- Colac Ladies Kennel Club –  Junior of Breed & ResDCC
& RUBOB- Judge Mrs P Campbell (WA)
22nd April 2005 – Greensborough & Dist KC – Junior of Breed &
ResDCC  – Judge Miss R Carnegie (WA)
17th April 2005 – GRCV Specialty Show – 3rd Junior Dog Class –
Judge Mr Roy Maynard (UK) critique to follow.
26th September 2004 – Kyneton & District KC – Dog CC & BOB
(20pts) & Puppy In Group – Judge Mrs. M Hanley(NSW)
22nd September 2004 – Melbourne Royal – 2nd Puppy Dog Class
Pedigree of  Chaleur
High N Mighty
PARENTS

GRANDPARENTS

GREAT GRANDPARENTS

GREAT GREAT GRANDPARENTS

NZ &  Aust CH
Kaparla Loch Invar (IMP NZ)

Hips 6 ,4 (10), Elbows 0,0 Eye cert, Clear Heart cert

Aust Ch Sandusky Klammer CDX ( Imp SWD)

Hipe 3,3  Elbows 0,0

Clear Eye & Heart Cert.





Eng Sh Ch
Lincheal Conspiracy of Chevanne

Hips 4,5(9)Clear Eye Cert


Eng Ch Styal Scott of
Glengilde

Hips 3,3(6) Eye Cert




Eng Sh Ch Lincheal Delmos

s Hips 5,5(10)
Eye Cert

Sansue Golden
Gloria of Sandusky

Hips 5,5(10) Eye Cert


Eng Ch Gaineda Consolidator
Of Sansue

Hips 0,2(2) Eye Cert




Eng Sh Ch Sansue Wrainbow

Hips1,4 (5))
Eye Certs

Aust Ch Dalius Band of Gold
( Imp UK)

Hips 11,3 Elbows 0,1. Clear Eye Cert.

Eng Sh Ch
Jobeka Jasper of Nortonwood Hips 12,6(18) Eye Cert


Eng Sh Ch Nortonwood
Silvanus

Hips 5,5(10) Eye Cert

Stirchley Sugarbush of
Jobeka

Hips 6,5(11)

Eng Ch
Standfast Louisa

Eng Sh Ch Lincheal
Conspiracy of Chevanne

Hips 4,5(9)Clear Eye Cert

Eng Ch Westley Ramona
Hips 3,5(8) Eye Cert

Chaleur Witchery

Hips 5,4((9) Elbows 0,0 Clear Eye & Heart Certs

Amirene Rory's Image

(Imp UK)


Hips 4,5(9) Elbows 1,1 Clear Eye Cert

Eng Sh Ch Remington Rory


hips 5,5  Clear Eyes


Eng Ch Paudell
Easter Plantagenet At Kerrien

Hips 4,7 Clear Eye Cert

Eng Ch Styal Snow
Flake of Remington

 (Hips 25)


Tamarley Mirror Image of Amirene


Hips 5,7 , Clear Eye Cert

Eng Ch Amirene
Pacifique  (Hips 4,4) Clear Eye
Cert
Eng Sh Ch Tamarley
Triple Echo

Chaleur Kiss Me Kate

Hips 6,7 Claer Eye Cert

Ralun
Drastic Action

Eng Ch & Aust Ch Tasvane
Charles Henry ( Imp UK )

Hips 6,8  Clear Eye

Ch Norite
Strathleigh


Chaleur Basic Instinct

Hips 5,4 Clear
Eye Cert

Grand Ch Chaleur
Acclaim To Fame

Hips 2,2, Clear Eye & Heart Certs

Ralun Wedgewood

Hips 5,5 Clear Eye cert