presents
RUBISS
Aust CH. Shuvani Freyja Rose
Sire: Chaleur High n Mighty     Dam: Camuka Freyja Mai

17/6/2010
" Freyja"
Hips 1,2(3)   Elbows 0,0  Current Clear
Eye Certificate, Clear Heart Cert. ICT-A Free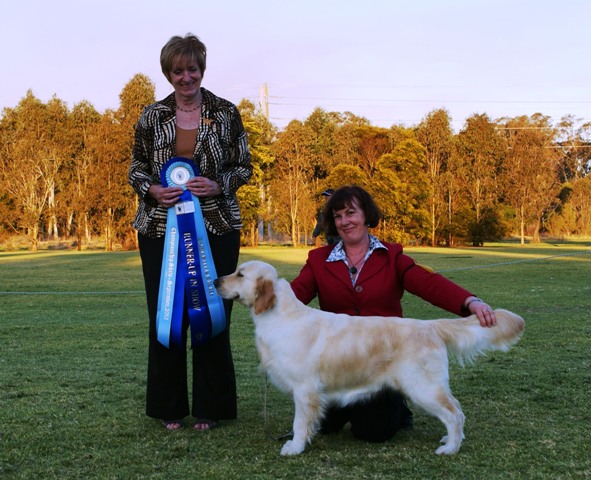 Freya winning  BCC & RUBIS at 2012 GRCNSW show -judge
Christine Ashton (UK)

Shuvani Freya Rose: Headed a fabulous class, this beautiful girl had that extra
bloom about her that said, this was her day! Beautifully presented in full pale
gold coat with cream feathering, prettiest of heads, feminine all through with
melting expression & super pigmentation. Excellent reach of neck into well laid
shoulders, level topline & tailset, well off for bone, net feet, super
angulation fore & aft, covered the ground with a long free stride. Had
everything I look for in a Golden in spades. Hardest decision of the day was
between her and the DCC winner for BIS, ultimately he just had the edge in ring
presence but was delighted to award her BCC IIS & RUIS
Freyja gained her title on 3 Nov 2012 at the
Vic Gundog show taking out BOB, under Breed Specailsit Mr Carlos Quinones
(Columbia0
The week before she took out BIG at the Romsey Ch show, under breed specialist Mr Peter Watson.
We are very proud of this lovely girl, she is certainly on a roll at the moment and just blooming.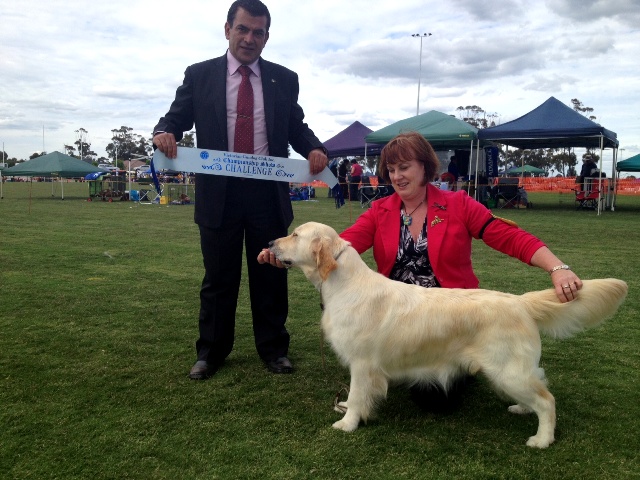 Freyja gaining her title, with BOB at Vic Gundog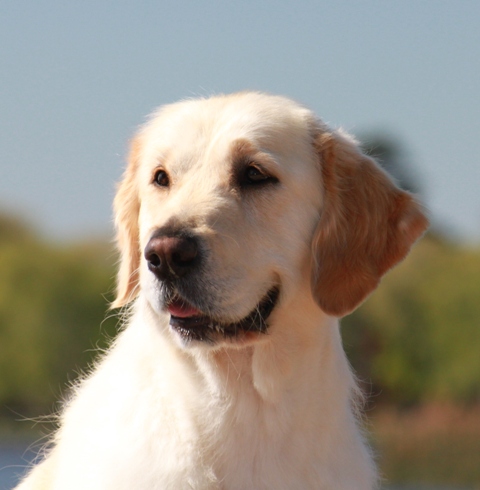 At Freyja's first show she was third in the large baby puppy class at the 2010 GRCV Ch show, to date she is unbeaten in all her baby classes and gained Res CC at her first show in Minor at Kilmore Ch show in December.
August 2011 – GRCSA Specialty shows  – !st Junior Bitch – M Philpott (UK) & 3rd Junior Bitch – A Richardson (Scotland)
4 September 2011 – BOB  Yea & Dist Kennel Club – Mrs C Davis (NSW) 19 pts
18 December 2011 – Kilmore KC – Res BCC – Breed specialist Mrs Sandra Patterson (NSW)
SIRE



Chaleur High n Mighty

Hips 2,4(6) Elbows 0,0, Clear Eye Cert. Clear Heart Cert.







NZ &  Aust CH
Kaparla Loch Invar (IMP NZ)

Hips 6 ,4 (10), Elbows 0,0 Eye cert, Clear Heart cert

Aust Ch Sandusky Klammer CDX ( Imp SWD)

Hipe 3,3  Elbows 0,0

Clear Eye & Heart Cert.

Aust Ch Dalius Band of Gold
( Imp UK)



Hips 11,3 Elbows 0,1. Clear Eye Cert.

Chaleur Witchery
Hips 5,4((9) Elbows 0,0 Clear Eye & Heart Certs

Aust Ch.Amirene Rory's Image

(Imp UK)

Hips 4,5(9) Elbows 1,1 Clear Eye Cert

Chaleur Kiss Me Kate

Hips 6,7 Claer Eye Cert

DAM

Camuka Freyja Mai

Hips 4/4(8) Elbows 0,0. Current Clear eye Cert & Herat Cert.

 

Aust Ch. Dream Max Grandmothers
Prospect (Imp Swd)

Hips 2,4(6) Elbows 0,0, Clear Eye Cert. Clear Heart Cert.

SVCH Dream Max
Paradise Apple

Dream Max
Nina Ricci

Camuka Tango In Paris

Hips 1,3 (4) Elbows 0,0. Current Clear Eye
Cert, Heart Cert




 

Grd Ch Tulzean Autum Tango

Jacsammel High Hope