About Us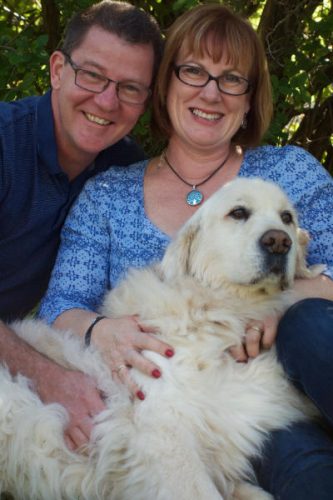 Mark, Jane and Archie (who was 14.5yrs in this photo.)
Camuka was established in1991. Jane has been involved with Golden's for over 30 years (since 1980), initially in her home country of New Zealand where she owned & showed her first Golden, and here in Australia. Her first golden was Leda of Western Lodge (Emma). Jane has worked in the veterinary industry for many years, as a Territory sales manager, as a vet nurse and she was also involved in Pet education in primary schools and kindergartens.
Camuka is a small & select kennel we have been breeding and showing Golden's here in Australia since 1991, when we purchased and titled our first golden CH Strathraer Hyland Brae, Stroy quickly gained his title with some notable wins.
After several years of breeding and a few hiccups along the way, we decided to change direction and in 1998 brought in Oaklodge Juliana from Oaklodge Kennels in NSW. Although not a showgirl Ana has given us some lovely sound progeny, including CH Camuka Monarch ofthe Glen. Ana is behind much of our current stock. We also brought in & titled CH Kaparla Hows That. "Bridie" came from the renowned Kaparla Kennels in Tasmania and brought with her some of the UK's top bloodlines. Her sire was the top Australian Golden, Grand Ch ChaleurAcclaim to Fame.  In 2004 we purchased Chaleur High NMighty from Chaleur kennels in WA. Oskar was a delightful boy, whose progeny were very successful in the ring, he sired over 8 champions with several more close to their titles.  We had his son Gilly CH Camuka Village Gossip. They all have great character & soundness. Oskar himself is not that fond of the ring, so was only shown at selected shows. In more recent years we have introduced some more UK/Swedish bloodlines with the use of Ch. Strathraer Nordic Star & DreamMax, and Sequins line from the Netherlands, and a recently purchased young boy from Fantango Kennels,. We are grateful to those breeders that have given us access to such lines.
We do not show as much as we used too but do still attend as many specialty shows as we can, as believe it is important to stay in touch and compete with our dogs, which can hold their own in the top company.
Camuka dogs have been consistently successful in the show ring under breed specialists, and to us, these are the most valued opinions – these are people who know the breed. well.
We do not follow "fashions" and carefully select suitable sires based on how they fit in with our breeding program. They must have outstanding temperaments and soundness which are our
priorities. We always look towards the future and continue to strive to produce quality dogs, which exhibit true golden temperament & display true breed Hallmarks. We will only breed from dogs
with below average Hip scores, X-Rayed and scored Elbows, Clear Eye and Heart Certificates., we are also now DNA testing for Ichthyosis. (an inherited skin condition)
Camuka dogs have been successful in the show ring, at obedience, tracking, retrieving and as therapy dogs, but most importantly make fantastic family companions. To date, our Gilly has sired several litters with puppies being selected for assistance dogs with Dogs For Kids With Disabilities, seeing his children succeed in this role is one of my highlights being a breeder.
As a small kennel we aim to produce quality, not quantity, and only have 1-2 litters per year. Our puppies are well socialized, and grow up in a family environment. We occasionally have puppies for sale to approved homes, our puppies are often well booked in advance. If seeking a puppy please visit our puppy page and take the time to fill in our puppy inquiry form.
We are happy to welcome visitors, by appointment only.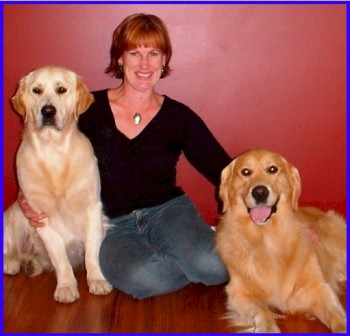 Jane with the boys, Oskar & Archie

Visit our puppy page for future
litters.
We like to meet all prospective puppy owners at least once, to make sure they meet our requirements,
and keep a friendly contact with all puppy owners so we can see how their new puppies develop and so we can help with any problems.
Jane is also an artist, specialising inGolden art, her passion, you can see more of her artwork on her art page.
We are members of the
Golden Retriever Club of Victoria
We are also members
of the Dogs Victorian ,
Golden Retriever Club of NSW and UK Golden
Retriever Club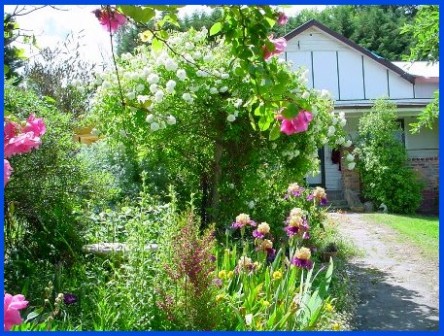 Gardens  at Camuka (now a fond memory as we moved to a new property in 2018)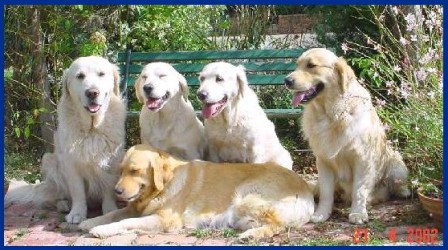 Many special memories sadly all now at Rainbow bridge.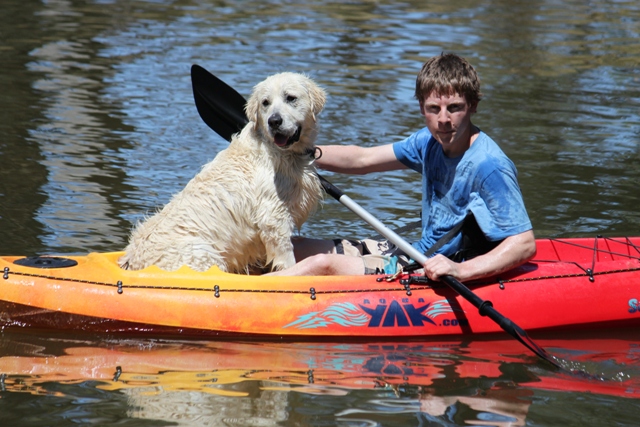 Summer fun, "Piarki Time For A Cool Change" enjoying a paddle
with our son Tom.