Presents
Ch Strathraer Hyland Brae
Sire: Oaklodge Strauss   Dam: Ch Ferndarra
Gamerunner
4/4/1991 – 9/1/2004
Hips 2,2(4) . Final Clear Eye & Heart Cert
"Stroyka"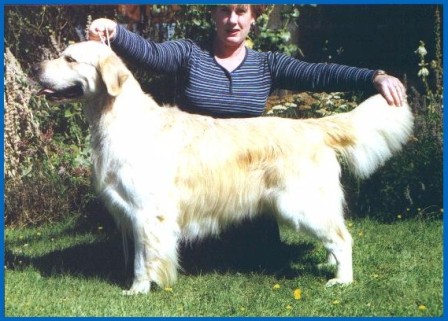 Stroy aged 8 years
"Stroyka" went to rainbow bridge in early
January 2004, he has left a huge void in the Camuka family, and will always be
missed, a once in a life time dog. He was a delight to own, and excelled in breed type
and quality. He was a wonderful showman, and until recently still a big clown,
always with a ball in his mouth. Stroy
had limited showing due to family commitments, but his quality was recognized by many and he consistently did well under breed specialists and
had numerous in show and group wins.
Stroy was retired from the show ring at the age of 9.5 years. As the oldest dog
competing at GRCV National show  he was awarded 5th place in
open dog class, from a class of nearly 40 dogs. This was a huge thrill as this
was Stroys last show.
Stroy has been part of the Responsible Pet Programme in
Victoria and delighted in visiting schools with me. He was sadly retired due to ill health.
IN MEMORY
CH Strathraer Hyland Brae
"Stroyka" who passed away on 9/1/2004 – aged 12.5 years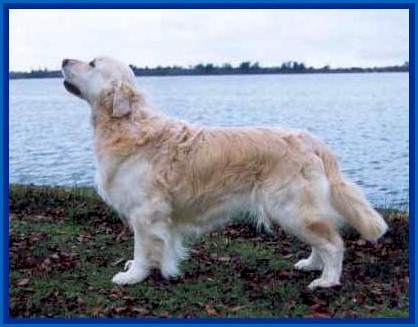 " Stroy"
A once in a life time dog
I'd like the memory of me to be a happy one,
I'd like to leave an afterglow of smiles now my life is done,
I'd like to leave an echo, whispering softly down the waves,
Of happy times and playful times
And bright and sunny days
I'd like the tears of those who grieve to dry before the sun,
Of happy memories that I leave now my life is done.
Author unknown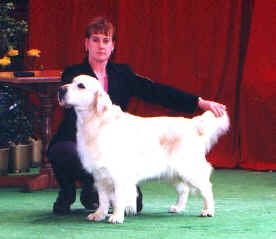 Stroy aged 9.5 yrs at GRCV National 2000
As a sire he has produced some lovely puppies, including
Camuka Caitlin's Gold, who was awarded PUPPY OF THE
YEAR 1996/97, Katie was virtually un beaten in all classes, and was
also awarded Puppy Bitch at the 1997 Melbourne Royal, she has
many in show and group wins to her credit. We are very proud to have
his son Archie, and litter sister Sophie to carry on his name. We wish Fernfall Picture Perfect the
best of luck with her show career.
Pedigree of: Aust CH Strathraer Hyland Brae
P

Parents




GRANDPARENTS


GREAT


GRANDPARENTS




PARENTS

Oaklodge Strauss

Oaklodge Impact

Charterhall Gallileo (Imp NZ)

Pinecrest Trooper Imp UK

Charterhall Enigma

CH Oaklodge Wistful

CH. Deremar Duke (Imp UK)

Oaklodge Olivia

CH. Rueberry Fantasy of Laytoncroft
(Imp UK)

Christopher of Lilling (UK)

ENG CH. Nortonwood Faunus (UK)

Brekswood Janine (UK)

Lawnwoods Wait and See (UK)

ENG SH CH. Westley Munro of Nortonwood (UK)

Alfresco Spirit (UK)

CH. Ferndarra Game Runner

CH Leegolden Valley King

CH. Leoline Golden Ruffy

CH. Buffalo Woodbuff

CH. Andalee Lady Celeste

CH Goldog Alpine Minion

CH. Glennessa Ingot (Imp UK.)

CH. Gunarryn Anthia

Ferndarra Sea Shanty

CH. Thessaly Happy Boy

CH. Chantesuta Adonis

CH. Vanrose Happy Lass (Imp NZ)

CH. Ferndarra Roving Gypsy

CH. Chantesuta Adonis

Jedburgh Sandarra Gold
Some of Stroys progeny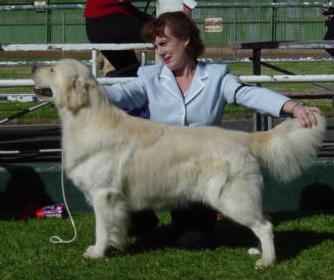 "Jacsammel Storm",at 20
months, a son of Stroy.
Owned and bred by Sue Dunne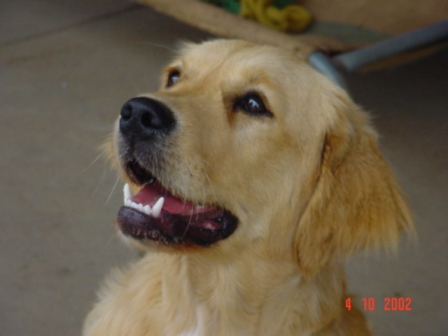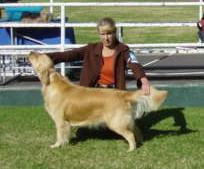 Tarryn – Fernfall Picture Perfect
Bred by Jane Fall