Puppies at Camuka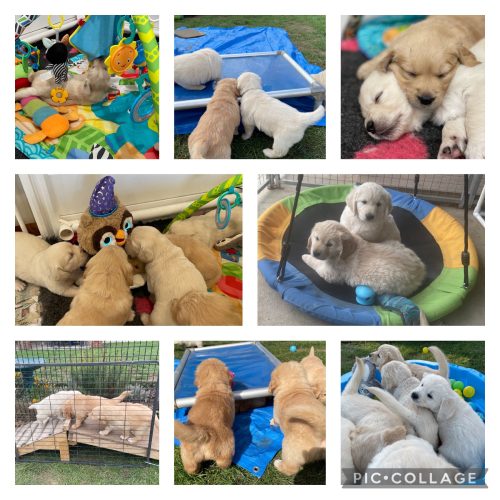 (previous litters)
Planned Litters
* OUR NEXT LITTER IS PLANNED FOR EARLY 2024 *
PLEASE COMPLETE OUR PUPPY FORM AS AN EXPRESSION OF INTEREST. 
Below is our puppy inquiry form, although you may feel some of the questions are quite personal, this information is required by us to help us find the best homes for our puppies.
Click here for the Camuka puppy enquiry form
PLEASE NOTE:
If you live in a rental property you must provide us with a letter from your real estate agent stating
dogs are allowed.

If you have no intention of having the dog inside your house please do not apply for one of our puppies.

 We are happy to sell puppies interstate but like to meet all new owners.

We do not sell puppies to people who live in apartments

We prefer to sell to families with children of age 4+

NEWS
If you would like to research more about the Golden Retriever and how to raise a happy healthy puppy, Jane published her book in 2020. Recently the book has been updated.
Visit the puppy book page to order. Cost is $ 21 plus P & H.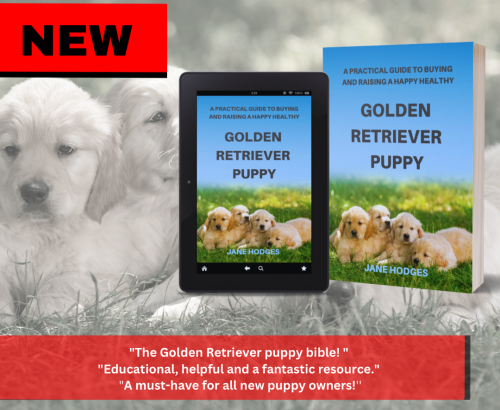 If you are seeking an older dog please visit
Golden Retriever Rescue they are always seeking
homes for older Golden's
Please ensure you can meet the below requirements before you consider a Camuka puppy.
Every litter at Camuka is carefully planned, we do not breed often and we take pride in producing sound,
quality puppies with gentle temperaments and good conformation. Camuka puppies have been successful in the show ring and at obedience, we now have several being used for Autism assistance dogs, but above all, they are great family pets. We have over 35 years of experience with this wonderful breed, and never stop learning.
Our puppies are raised in the house with us and are well socialized. Our puppies
are an extension of our dogs and ourselves.
Our puppies are raised using the puppy culture protocol
They are loved and nurtured and thus we take great care in placing our puppies in good homes. Puppies are only available by reservation, to caring and responsible homes. Previous owners of Camuka dogs will always be given preference.
Our breeding stock is screened for :
Hip Dysplasia & Elbow Dysplasia
Have annual eye certificates
Have a clear heart certificate

DNA tested for Ichthyosis (an inherited skin condition)PRA 1 & 2
Thyroid
All puppies come with a detailed puppy pack, which includes our puppy guide book, diet sheets, 6 weeks insurance, copies of parents' health certificates, Puppies ANKC pedigree,  6 weeks pet insurance and much more. Puppies are vet checked, microchipped & vaccinated.
*All family pets are sold on the Limited Register.  (not for breeding) 
*Genuine show inquiry's are welcome, we will only place our main reg puppies with people who are registered with their state canine association, and have a genuine interest in the breed, not just to produce puppies!
THINGS TO CONSIDER: 
*Your Golden should be part of the family and this includes coming inside your home, if not
then please consider that a Golden Retriever may not be the best breed for you. They are a family dog & like to be part of the household.
*Are you prepared to take your puppy to dog training school?  Golden's are a large breed & need training.
*Do you have a hair phobia – if so then a Golden is not for you!
*Also consider if you work long hours and your dog will be on its own all day,
a Golden may not cope and could become destructive, escape, or bark.
Click here for the Camuka puppy enquiry form
If we cannot offer you a puppy we may be able to recommend another breeder, or try the Golden Retriever Club of Victoria
Please email us at
jane@camuka.com